Providing Emergency Boarding Up Services in London
London Emergency Boarding up service
Burglary, vandalism or bad weather can occur at any time and if you discover a broken or damaged window, you need a company that can act quickly to help. London Locksmiths Limited board up service is available 24 hours a day and 7 days a week. Our local expert installers will respond within an hour to your commercial premises or home in London.
Our experienced installers will assess the problem, remove the damaged glass and board up the window or door to secure your premises quickly. Our vast range of glass stock means that we can fit a replacement window as soon as possible.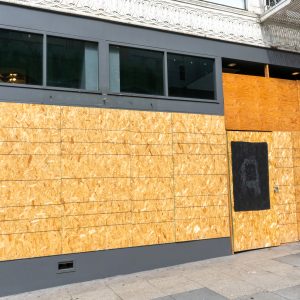 Quotation for London board up service
We offer a free quotation service and advice on board up services across all areas of London. Our installers can come out to your home or business, assess the damage and give advice on what to do. We can provide a free quotation to give you a price for emergency boarding up and window or door replacement.
24-hour boarding up London
Our team covers the whole of London and can come out to your home at any time, day or night. If you have a broken window or door you will want to secure your property as soon as possible. London Locksmiths Limited installers can get to you within the hour and board up to make you feel secure again.
The expert craftsmanship and years of experience allows us to respond and repair any damage to your property's windows or doors rapidly. Residents and business owners across London have been turning to us for expert window and boarding up services since 1992. If you have a broken window pane, we can take care of everything from start to finish.
London Locksmiths Limited can provide a cost-effective, quick and reliable service for boarding up and windowpane replacements in London.
If your windows or the door has broken, then the interior of your home or business is at risk. London Locksmiths Limited acts quickly to board up the broken glass and secure your property so that you don't have to worry while you wait for a new glass installation. We work 24/7 to provide our board up services whenever you need them. 
If your Home, Shop or Office has been broken into, or you have had a late night accident call London Locksmiths Limited emergency assistance.
At London Locksmiths Limited, we know that each and every building is unique so that's why our team uses their experience to decide what the best method would be to take care of your situation. We have this service available at any time of day or night so that you can have peace of mind. Once you call us, our crew will leave immediately. 
London Locksmiths Limited works with your insurance to give you board up services. Our team can do more than just board up the area, though, we can also replace anywhere that has been damaged. We'll replace any broken doors or windows for you once we've boarded up the area. This way, you'll only need to work with one company.